InHabit has successfully completed the facilitation of IGBC Green Schools rating for Good Shepherd International School, Ootacamund.

We are proud to announce that Good Shepherd International School has been awarded the prestigious Platinum rating making it the first certified green school in the region. With an aggregate score of 88 points out of 100, Good Shepherd is also India's greenest school.
The IGBC Green School rating system is a unique system, in the sense that it addresses green education, health, hygiene and infrastructural facilities besides energy efficiency, water conservation, indoor environmental quality and waste management. Aspects like nutrition, physical activity & safety are also addressed. Good Shepherd has performed exceptionally well in all the above areas while scoring points for innovation in organic farming and waste management. The school's performance has been tabulated below: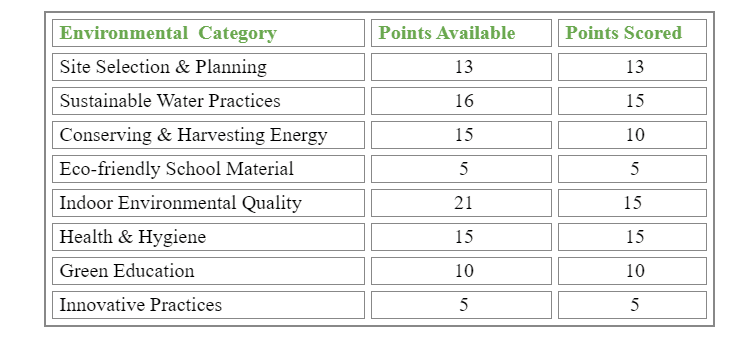 Key Features of the Good Shepherd International School
GSIS has followed some of the best site and soil management practises with large portions of the campus left as natural topography.




GSIS has a large fleet of vehicles ensuring over 95% of all students and staff either walk to school or take the school bus.




GSIS excels in storm water management with all site run-off being directed to the schools private pond which has a capacity of over 90 lakh litres.




All waste water is treated on site and reused for irrigating the school landscape and organic farms.




The school completes the environmental loop in organic waste management where all the waste is converted to food for its own pig farm or converted to manure to be used in the organic farms.




The school grows most of its own food and the most fresh and healthy produce is served to the the staff and students and a daily basis.




Meticulous housekeeping practises have been put in place to create the most healthy and hygienic environments for students to learn and grow.




GSIS boasts of the best sporting facilities in the country, which includes, its own private cricket stadium, football grounds, indoor sports stadiums, heated swimming pool, squash courts, equestrian facilities just to name a few.




At GSIS environmental education is given paramount importance with student committees carrying out internal awareness programs, nature trips, public awareness campaigns and cleanliness drives.




All GSIS buildings are thoughtfully designed with excellent daylighting and ventilation creating the perfect indoor environment for learning to take place.




The school also excels in energy efficiency through the use of high performance lighting, appliances and equipment.




The school also saves huge quantities of water through efficient irrigation, bathroom fixtures and treated water reuse.




All building & interior materials, refrigerants and fire extinguishing equipment is eco-friendly. The school has a policy in place to ensure all future procurements meet the highest environmental standards.



Apart from the above Good Shepherd International School has incorporated many other features, policies and systems to ensure it demonstrates global leadership in environmental performance and has been rewarded with the highest number of points and rating making GSIS the Greenest certified schools in the country.
Our Scope of work
IGBC Green Schools ratings facilitation services.

Ene

rgy modeling, Ventilation and day-lighting analysis.

Efficient waste & water management planning.

Help improve energy efficiency and building comfort

Help improve Indoor Environmental Quality for better health and well being of students and staff

Marketing support and green building training for staff.

Preparing a green school policy

Green building strategic plan and Project management.

Materials and systems procurement and advisory services.

Regular site visits for measurement and monitoring.

Guidance on best practices.